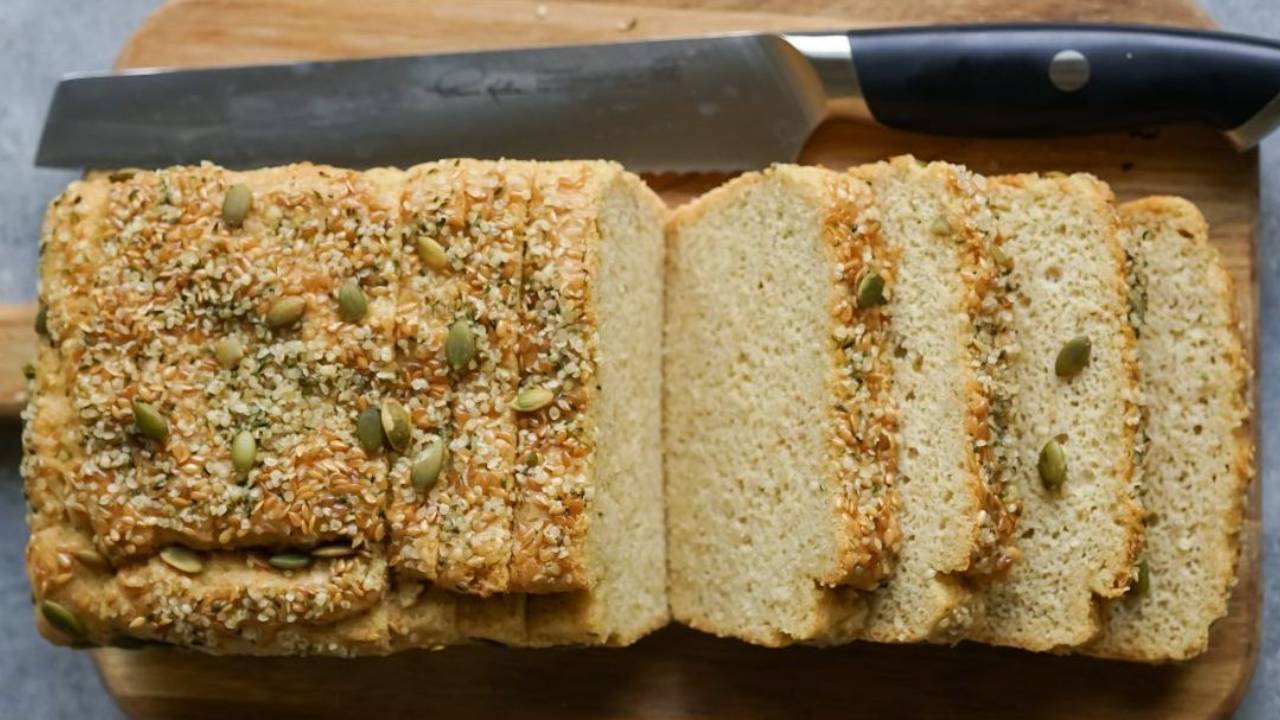 Keto bread ! I have made so many recipes that where blah to say the least.. Also most breads I have made have a lot of starches (tapioca or arrowroot which are not keto friendly when used in those amounts) or have gums.
This keto (grain free, dairy free, gluten free) bread is life changing to say the least. This recipe is my favorite and a fan favorite in my workshops because: it tastes delicious, it is spongy, not dense and not dry like most keto breads, not eggy (even if it has 7 eggs), it is also dairy free, gluten free, grain free, no yeast, no gums and no added sugars. It makes the best toasts, French toast and even bread crumbs.
When I was diagnosed with pre diabetes in Nov 2018 I was literally in shock and screamed when I saw my glucometer (glucose meter) measuring 186! Did you know that a blood sugar of over 100 mg/ dL is a danger zone?.. I have known this for at least 10 years… so of course I immediately ran to my doctor and got a series of blood sugar tests (HA1aC which measures your exact 3 month blood sugar levels). I was told yes, you have pre diabetes (my HA1aC was 6.3 and at 6.5 you are diabetic) so I hit rock bottom again.
I knew I had to go on a keto, low carb diet if not I would become a diabetic like my Dad who is now fed through his stomach (one of the consequences of diabetes can be an inability to swallow food (a condition called dysphagia). So if you have a direct gene of diabetes do whatever it takes to naturally lower your blood sugar as fast as you can, and food + lifestyle is the best way to do this.
I turned my pain into my passion and my passion into my purpose and since I had already made many recipes for Bulletproof I was determined to create new recipes I loved and could eat and that taster BETTER than traditional desserts and breads. So here is my killer keto bread that I am proud to share with you all. Always scale the recipe with my favorite scale and use a Thermomix for best results.
Thanks to Cangshan Cutlery for my amazing bread knife!! It is part of the Chef Thomas Keller's collection which I am sooo happy to own and cook with every day!
The pan I used for baking this loaf is here.
---
Recipe
Serves:

1 large bread loaf
Best keto bread for sandwiches, toasts, French Toast #dairyfree, #grainfree, #glutenfree
Ingredients
270 gr almond flour
½ cup + ⅛ cup freshly ground flax seeds (60 gr)
2 tablespoons psyllium husks (10 gr)
⅔ cup avocado oil or olive oil
7 large organic pasture raised eggs
¼ cup water
1 tablespoon apple cider vinegar
4 teaspoons aluminum and gluten free baking powder (at high altitude use half)
1 teaspoon Himalayan sea salt
Toppings:
Hulled sesame seeds, poppy seeds, flax seeds, hemp seeds, pumpkin seeds (a mixture of any).
Method
Preheat a convection oven to 350 F (170 C). Grease and line a large loaf pan with parchment paper.
Process all ingredients in Thermomix at speed 3 until integrated, scrape bowl and pour batter into prepared baking pan and sprinkle flax seeds + hemp seeds over.
Bake in preheated convection oven preferably about 25 mins or until a toothpick comes out clean (don't over bake!). Remove from oven, let cool for 10 mins on a cooling rack. Unmold, cool completely and cut with a serrated knife. This bread keeps for about 1 month frozen in a Ziplock bag.
It makes the best French toast, toast, sandwich or anything!
---